Investment Banking
Financing and M&A
Who we are
Genesis is an independent Colombian investment banking firm that provides advisory services since 1997 on financing and M&A.

What we do*


Financing
Genesis arranges the financing for companies and projects in various industries. Our wide experience allows us to offer the highest standards regarding credit schemes and to focus on the most adequate financing sources for each specific case, depending on size, development stage, risk assessment and industry.


M&A
Genesis advices its clients on sales, mergers and acquisitions. As part of this service, we perform the valuation of companies, projects and intangible assets; as well as due diligence, counterparty search, negotiation and assistance up to the final closing of the transaction.


Financial Planning
Our corporate clients can outsource with us the functions of their Financial Planning Area. We optimize the cash management activities. Our services can either take full responsibility of the area or support the existing team so as to improve its process.


Project Finance
Our skills in financial modeling and risk identification and management, as well as the solid accounting, legal and tax knowledge of our team, make us a good complement to the financial configuration of any kind of projects, including greenfield projects, PPPs (public private partnerships), franchises, among others.


Valuation of Intangible Assets
Genesis provides independent advice on the identification and determination process on the value range of different types of intangible assets (brands, customer relationships, Internet domains, goodwill, etc.) allowing, among others, to perform the required impairment tests for accounting purposes.


Investment Fund Development*
Genesis has extensive experience in the design and implementation of investment funds, both focused on traditional assets and alternative assets. Our advisory process allows vehicles structured by us to meet investors' requirements with the highest standards. We work jointly with fund-expert legal advisors.
* Genesis does not provide services deemed as financial intermediation services or securities intermediation by Colombian regulations and it is not subject to the surveillance of the Colombian Financial Superintendence. Genesis may support its clients with the understanding of financial products and services offered by financial institutions under surveillance of the Colombian Financial Superintendence. Advisory activities offered by Genesis include specialized advice excluded from securities intermediation activities set forth in Decree 2555 of 2010. Our services do not include the offering of services or advice on securities registered in the National Registry of Securities and Issuers. Genesis does not promote products or services from foreign financial institutions.
Why we do it
The constant professionalization of local financing companies and the high standards of International investors, make it necessary for local companies to be duly assisted so as to convey their value and strength. Additionally, we believe it is important for management to stay focused adding value to their operations instead of being distracted by complex financing or M&A transactions which require the coordination of multidisciplinary teams.
Independence
Our company does not belong to any economic group. Our independence prevents conflicts of interest that could harm the objectivity of our advice.

Focus
Genesis develops a small number of projects per year, which implies that the transactions we advise are carefully selected. This approach guarantees the commitment of the team members involved in each project.
Confidentiality
We are aware that the success of our clients and their transactions depends on our discretion; for this reason, confidentiality is one of our main commandments.

How we do it
Deep understanding of the companies and projects involved in transactions which allows us to determine the main driving forces.

Strict credit analysis process supported by the construction of detailed financial models.

Careful identification of risks and mitigants.

Valuation of companies through complementary methodologies and identification of key factors determining that value.

Definition and analysis of several development strategies with the objective of identifying the one which will maximize the market value of the company.

Financial due diligence and coordination of legal, tax and technical due diligence with the professionals involved.

Identification of and contact with potential partners as well as collection of offers from potential counterparties for every transaction.

Definition and execution of the negotiating strategy which should optimize and maximize the benefit for the seller.

Our constant support is reinforced for the sensitive process of negotiation and closing of the transaction.


Our experience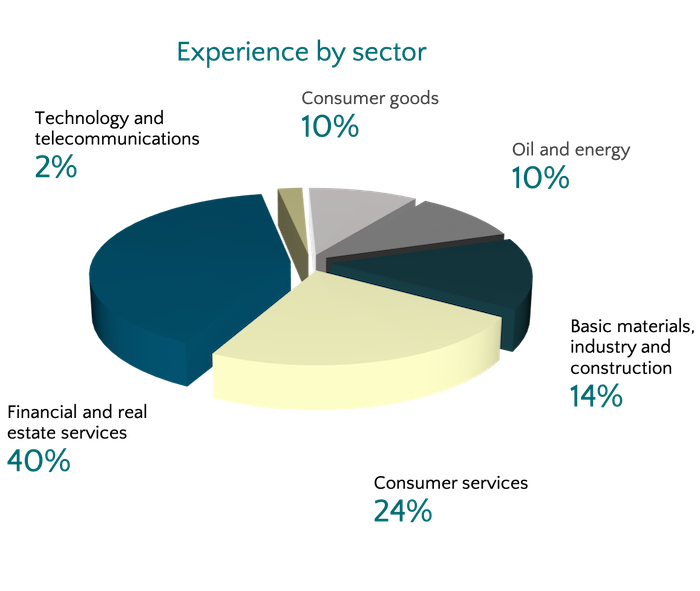 Genesis and its team of associates have a cumulative experience of more than 130 projects, including valuations, sales, financings and M&A transactions, as well as asset backed securitizations, among others.